Breakfast
Lunch & Dinner
Drinks
Buns & Cows
Beach Shack
Ribs & Bits
Breakfast
Always fresh - always sunny - always delicious! Join us on Friday and Saturday mornings for our delicious Barasti Breakfast! Every Friday & Saturday from 9AM - 11:30AM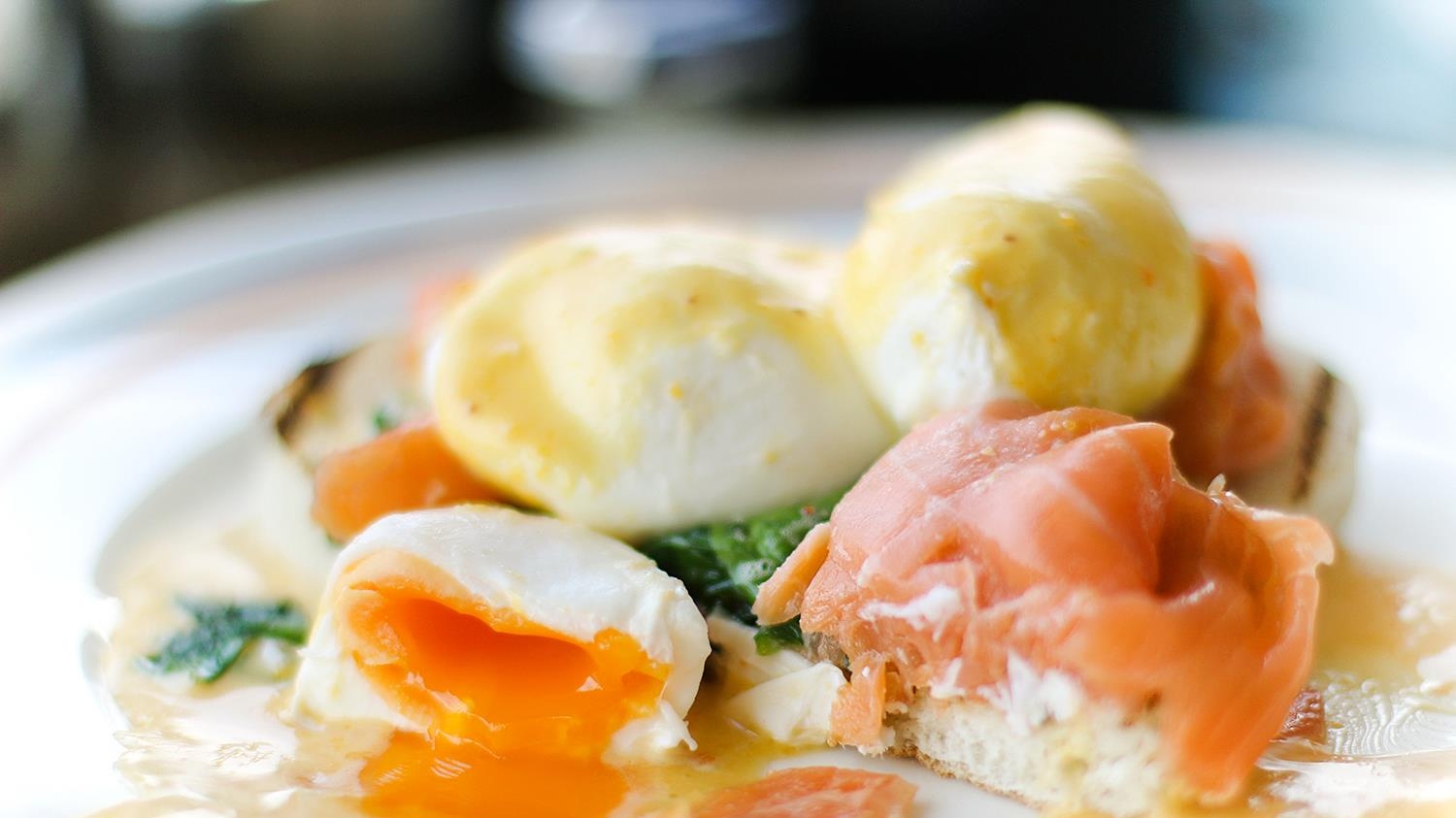 BREAKFAST MENU
Breakfast Served Every Friday & Saturday Morning from 9am-11.30am
English B'Fast [P] - 92aed - full portion
Fried Eggs, Pork Bacon, Baked Beans, Pork Sausages, Grilled Tomatoes, Sautéed Mushrooms, Hash browns, Toast, Butter.
Full Portion - 92
Half Portion - 58
Eggs Benedict - 74aed - 3eggs/54aed
English muffin, Smoked Salmon, Poached Eggs, Spinach, Hollandaise Sauce.
Egg Florentine - 72aed -3 eggs/ 52aed
English Muffin, Poached Eggs, Spinach, Artichoke hearts, Béchamel, Parmesan
Full vegetarian B'fast (SE) - 80aed - full portion
Fried Eggs, Grilled Halloumi, Asparagus, Baby Spinach, Grilled Mushrooms, Roasted Tomato, Butter Beans with Roasted Potato, Granary Toast
Full Portion - 80
Half Portion - 52
Don Corleone B'fast (N) - 65aed
Focaccia Bread, Bresaola, Grill Asparagus, Poached Eggs, Hollandaise Sauce, Honey Toasted Walnuts, Truffle Pecorino.
Healthy B'fast (N)(SE) - 65aed
Multi Seed Rye Bread, Japanese Mayo, Sweet Corn, Rocket Leaves, Bean Sprout, Salmon Flakes, Poached Eggs, Avocado, Mix Salad
Hangover burger (P) (SE) - 95aed
Spicy Tomato Ketchup, Pork Bacon, Mushroom, Cheddar Cheese, Hash Brown, Fried Egg, French Fries
Tosti (P) - 45aed
White Jumbo Slice Bread, Cooked Ham, Cheddar Cheese Garlic Mayo, French Fries
Buttermilk Pancakes - 42aed
Nutella or Maple syrup and Berries.
Waffles - 50aed
Sour Cream and Hazelnut or Warm Berries or Nutella
Fresh from the Bakery - 32aed
Assorted Bread Basket or Croissants, Pain au Chocolate,Fruit Danish.
Fruits - 54aed
Seasonal Fresh Fruit Platter.
Eggs - 24aed
3 Eggs Any Style.
Dessert
Chocolate cake (N) - 35aed
Chocolate peanut butter stack (N) - 35aed
Molten chocolate (N) - 35 aed
Brownie bites (N) - 35aed
Lunch & Dinner
Relish our Barasti Favorites such as our delicious Beef Burger or our new Walk the Dog sandwich; head to the grill section for mouth-watering steaks and kebabs; or just nibble on our wide Tapas selection with your friends!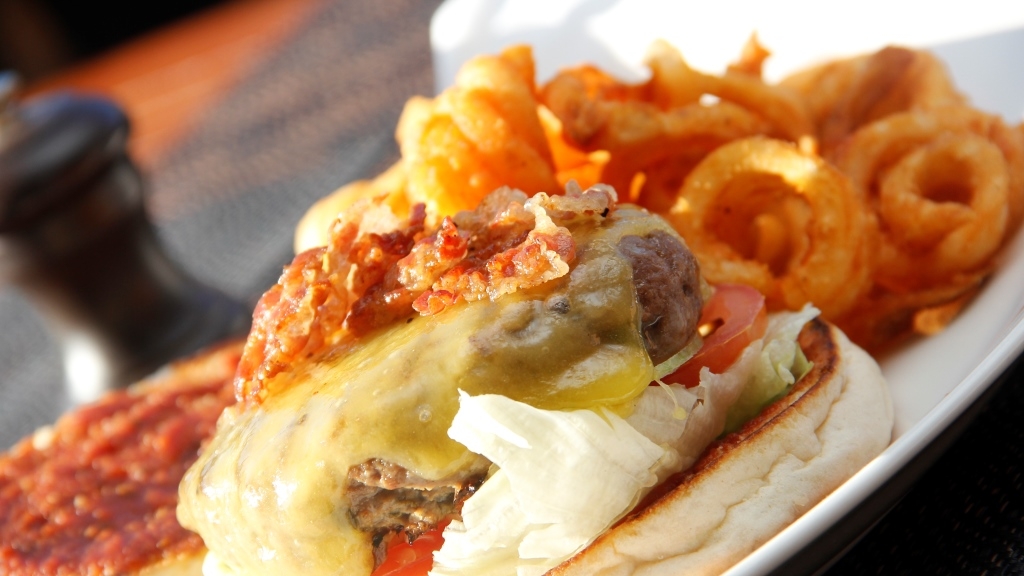 From The Grill
Served With Roast Potatoes, Fries Or Salad
Skirt Steak - 165
420 grams
Strip Loin - 175
350 grams
Rib Eye Bone In - 260
680 grams
Mix Seafood Fish [S] - 185
Seabass, Octopus, Prawns
Meat Grill (SE) - 375
Sirloin Steak, Skirt Steak, Mini Burgers, Mini Beef Skewers, Home-made Sausage, Grilled Tomato, Mushrooms, Corn on the Cob
SAUCES
BBQ| Lemon and Herb Butter | Pepper | Mushroom
Appetizers
Bruschetta [V] - 72
Focaccia Bread, Cherry Tomatoes, Buffalo Mozzarella, Artichoke, Black Olive, Basil, Extra Virgin Olive Oil
Caprese [V] - 84
Heirloom Tomatoes, Buffalo Mozzarella, Perfumed Basil, Extra Virgin Olive Oil
Mezzah Plate [V] [N] - 66
Mediterranean Dips, Arabic Bread
Halloumi Salad [V] [N] - 82
Cucumber, Black Olives, Pine Nuts, Baby Spinach, Honey Mustard Dressing
Japanese Salad [SE] [S] - 78
Seared Salmon, Crab Sticks, Cucumber Julienne, Potato Confit, Panko Bread Crumbs, Japanese Mayonnaise
Salad Nicoise [SE] - 77
Fresh Seared Tuna, Baby Potatoes, Green Beans, Cherry Tomatoes, Baby Gem Lettuce, Anchovies, Quail Egg, Kalamata Olives, Red Onion, Herb Dressing
Cajun Coated Calamari [SE] - 64
Cajun Chilli Dip, Lemon
Asian Chicken Fruity [SE] - 72
Asian Chicken Fruity [SE]
Chicken Caesar Salad [P] - 76
Grilled Chicken, Croutons, Shaved Parmesan, Marinated Anchovies
Grilled Octopus Salad - 90
Poached Potatoes, Aioli Purée
Lobster Catalana Salad - 110
Celery, Onions, Cherry Tomatoes, Citrus Marinated Lobster
Mains
Mediterranean Tuna [N] - 132
Fennel Seed and Pistachio Crust, Eggplant Caponata, Polenta
Pavilion Salmon [N] - 130
Quinoa Salad, Avocado, Pumpkin, Cherry Tomatoes, Almond Flakes, Red Onions, Goji Berries
Devilled Prawns, Soba Noodles [S] [N] - 115
Chilli Battered Prawns, Stir Fried Soba Noodles, Baby Corn, Bok Choy, Broccoli, Bean Sprouts, Snow Peas, Dry Bean Curd
Thai Green Prawn Curry [S] [SE] - 130
Prawn Crackers, Coconut Rice, Peas, Beans
Butter Chicken [N] - 125
Saffron Pulao, Paratha, Poppadum, Pickles, Crispy Onions
Lasagna [N] - 74
Home-made Lasagna, Beef Ragout, Garlic Bread
Paella [S] - 105
Mixed Seafood, Chicken, Peas, Saffron Bomba Rice
Chicken Pie - 94
Onion, Garlic, Thyme, Veal Bacon, Steak Fries
Chicken Parma [N] - 105
Chicken Breast, Tomato Sauce, Turkey Ham, Mozzarella Cheese, Garlic Sautéed Asparagus, Steak Fries
Tacos Pie - 90
Crispy Tortillas Bread, Spicy Chilli Con Carne, Cheddar Cheese, French Fries
Alfredo Pasta - 80
White Sauce, Sauté Mushrooms, Chicken, Parmesan Cheese
Seabass - 110
Celeriac Purée, Sauté Spinach, Mix Pickled Mushrooms, Tomato Caviar
Smoked Short Ribs - 110
Potato Purée, Grilled Vegetables
Lamb Chops - 145
Pumpkin Purée, Green Peas, Kale, Mashed Potato, Mint Veal Jus
Burgers And Sandwiches
Chicken Burger [SE] - 92
Panko Fried Chicken Tenders, Lettuce, Tomato, Onion, Cheesy Mayo, Curly Fries
Club Sandwich - 84
White Bread, Chicken, Lettuce, Tomatoes, Turkey Ham, Mayonnaise, Eggs, Cheddar Cheese, French Fries
Braised Beef Sandwich - 84
Slow Braised Beef, Capsicum, Mushrooms, Red Onion, Emmental Cheese, French Fries
Chicken Wrap - 80
Breaded Chicken Breast, Japanese Mayo, Cheddar Cheese, Side Salad
Focaccia [V] - 82
Tomato, Mozzarella, Rocket Leaves, Balsamic
Barasti Favorites
Barasti Beef Burger [SE] - 92
Sesame Bun, Lettuce, Tomato, Onion, Cheese, Curly Fries, Home-made Ketchup
Fish and Chips - 94
Mushy Peas, Tartar Sauce, Non Alcoholic Beer Batter
Fried Chicken - 96
Honey mustard BBQ mayo, Curly fries
Beef Bangers and Mash - 82
Sausages, Caramelized Banana Shallots, Truffle Mashed Potatoes, Gravy
Signature Wings - 86
Grilled Buffalo Wings, BBQ Sauce, Blue Cheese Sauce
Tandoori Chicken - 120
Half Chicken, Tortilla Bread, Mint Yoghurt, Saffron Rice
King Hot Dog - 75
Soft Bread Roll, Grilled Turkey Sausage, Roasted Onions, Cheese Mayonnaise, French Fries
Pizzas
Margherita [V] - 68
Tomato, Mozzarella, Oregano
BBQ Chicken Pizza - 80
BBQ Sauce, Mozzarella, Chicken Strips, Tomatoes, Corn, Capsicum, Spring Onions
Seafood Pizza [S] - 88
Tomato, Mozzarella, Prawns, Calamari, Cuttlefish, Mussels
4 Cheese [N] - 86
Mozzarella, Parmesan, Cream, Cheddar, Blue Cheese, Walnut
Mexicana Pepperoni - 80
Tomato, Mozzarella, Ground Beef, Corn, Bell Pepper, Onions, Spicy Pepperoni
Forest Pizza [V] - 115
Mixed Mushrooms, Mozzarella, Truffle Paste
Tapas
Each - 35 Any 6 - 194 Any 15 - 495
Mozzarella Fritters, Green Olive Tapenade [V]
Breaded Plaice Goujons, Tartar Sauce
Mini Burgers, Melted Cheese [SE]
Butter Chicken Spring Rolls, Mint Yoghurt [N]
Cream Cheese Potato Pockets, Honey BBQ Sauce [V]
Cajun Coated Calamari, Cajun Chili Dip [S]
Breaded Buffalo Wings, Sweet Chili Sauce
Lamb Satay, Peanut Sauce [N]
Butterfly Shrimp, Wasabi Mayo [S]
Fried Mac And Cheese, Chipotle Cheese Sauce [V]
Spicy Crab Cakes, Cocktail Sauce [S]
Scallop Popcorn Garlic Herb Mayo
Chicken Popcorn, Cajun Cheese Sauce
Snacks
Nachos [V] - 65
Cheddar Cheese, Jalapenos, Pico De Gallo, Guacamole, Spring Onions, Salsa
Loaded Potato Dippers - 72
Ground Beef, Corn, Coriander, Tomatoes, Red Onions, Sour Cream, Spicy Salsa, Cheddar Cheese
Popcorn Skins - 68
Chilli Corn Carne, Cheddar Cheese, Side Salad
Drinks
For a drink to go with that tan, the bar has a broad range of beers and spirits along with a unique and inspired cocktail list.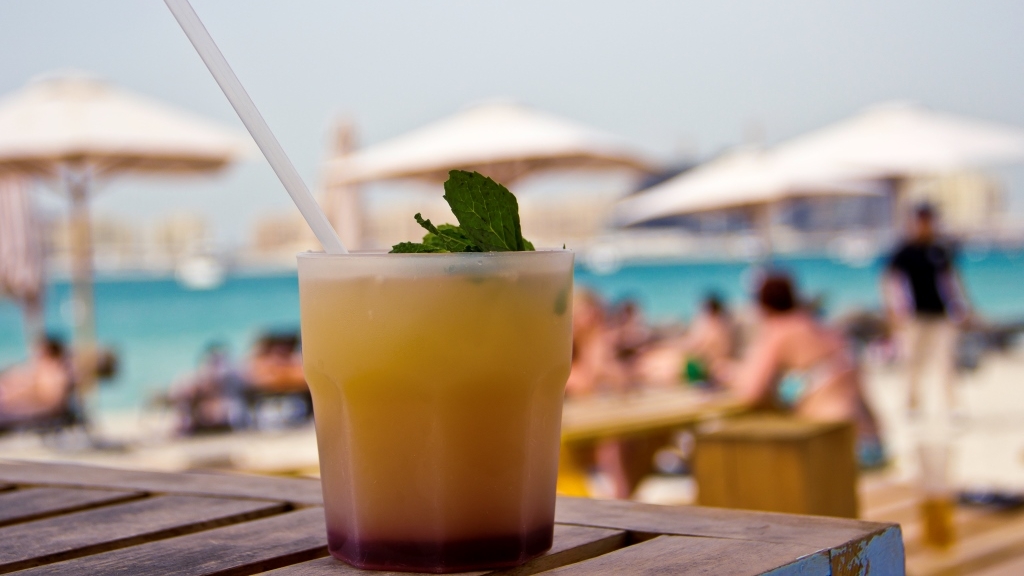 Beer & Cider
Bottled Beers
Corona, Peroni, Stella, Carlsberg, Fosters
Bottled Ciders
Somersby, Magners (Original / Pear)
Draught Beers
Peroni, Hoegaarden, Stella, Fosters, Carlsberg, Carlsberg Light
Draught Ciders
Magners Original, Stella Cidre, Somersby
Wine
White
Whistling Duck - Chardonnay, Australia | Angel Cove -Sauvignon Blanc, New Zealand | Pinot Grigio - delle Venezie, Voga, Italy | Simonsig - Chenin Blanc, South Africa
Red
Cawarra - Lindeman's, Shiraz Cabernet, Australia | Lapostolle - Casa Merlot, Chile | Chianti DOCG - Gabbiano, Italy | Kadette - Kanonkop, South Africa
Rose Wine
Pinot Grigio Rose', Italy | Veranza Rosado, Spain
Sparkling Wine
Hardys The Riddle Sparkling, Australia | Bin 30 Sparkling Rose | Lindeman's Prosecco extra dry Fantinel
Champagne
Laurent Perrier Brut
Spirits & Liqueurs
Vodka
Smirnoff Red, Ketel One, Ciroc
Rum
Matusalem, Captain Morgan Spiced
Tequila
Jose Cuervo Silver, Jose Cuervo Gold
Whisky
JW Red Label, JW Black Label, J & B Rare, JW Blue Label
Liqueurs
Sambuca, Jagermeister, Bailey's
Cocktails & Mocktails
Mojito
fresh lime, mint & sugar laced with rum topped off with soda
Frosty Daiquiri or Margarita
a Barasti all time favorite
Barasti Blossom
gin based cocktail coupled with lime and lemon flavour topped with cranberry juice and bitter lemon
Triple VR
triple thrilled combinations of vodka, rum and triple sec flavoured with melon liqueur - topped with lemonade
Pine-Berry
vodka, crème de cacao white, pineapple juice and topped with cranberry juice
Balineeze
traditionally mixed of gin, southern comfort and amaretto with lemonade and sweet sour
Captain Seyahi
rum based cocktail mixed with chambord shaken together with fresh lime and cherry, topped with lemonade
Bartastic
vodka, passion fruit liqueur, strawberry syrup, lychee syrup, lime juice topped with soda water
Mina Effect
layer of fresh kiwi ,mango and strawberry juice
Loco Mango
fresh mango juice blended with coconut cream and passion fruit puree
Icy-Berry
fresh strawberry muddled with lime topped with ginger ale
Lime Quencher
blend of fresh mint and lemon
Milk Shakes
vanilla / chocolate / strawberry / banana
Buns & Cows
Buns & Cows at Barasti Beach - Your local burger joint in the Marina area - #Pickupacow and visit our Buns & Cows Food Truck on: Tuesday & Wednesday: 9PM - 1AM; Thursday: 9PM - 4AM; Friday: 2PM - 4AM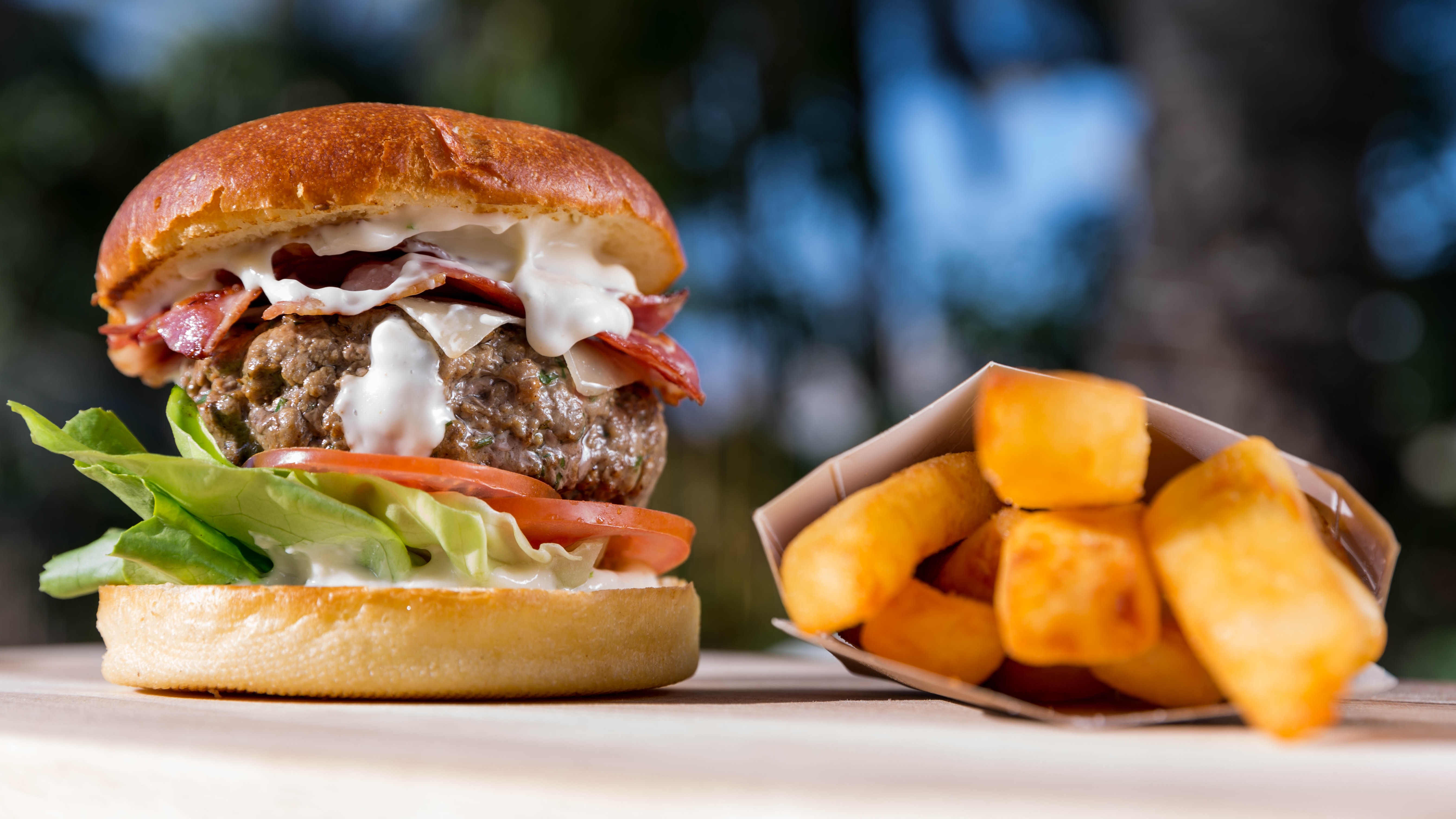 #PICKUPACOW
BUN & COW - 40
Tomato, onion, lettuce, pickles, home made ketchup, add cheese +5
CRISPY COW - 45
Smoked bacon, lettuce, tomato, garlic mayo
CREAMY COW - 45
Veal bacon, parmesan, lettuce, caesar dressing
FAT COW - 45
BQQ sauce, crispy onions, smoked cheddar
CRAZY COW - 50
Mushroom ketchup, portabello mushrooms, cheddar
SPICY COW - 45
Lettuce, tomato, smoked veal bacon bits, jalapeno, chipotle cheese mayo, sour cream
HIPPY COW - 45
Beetroot and goats cheese patty, tomato, lettuce, onion, pickled beetroot, fried egg
SKINNY COW - 40
(bunless) Tomato, onion, lettuce, pickles, home made ketchup all wrapped in iceburg lettuce Add cheese +5
ADD FRIES AND SOFT DRINK - 10
Beach Shack
Grab a quick and delicious bite at Barasti's brand new Beach Shack! Sunday-Wednesday from 11am–6pm; Thursday-Saturday from 11am–12pm.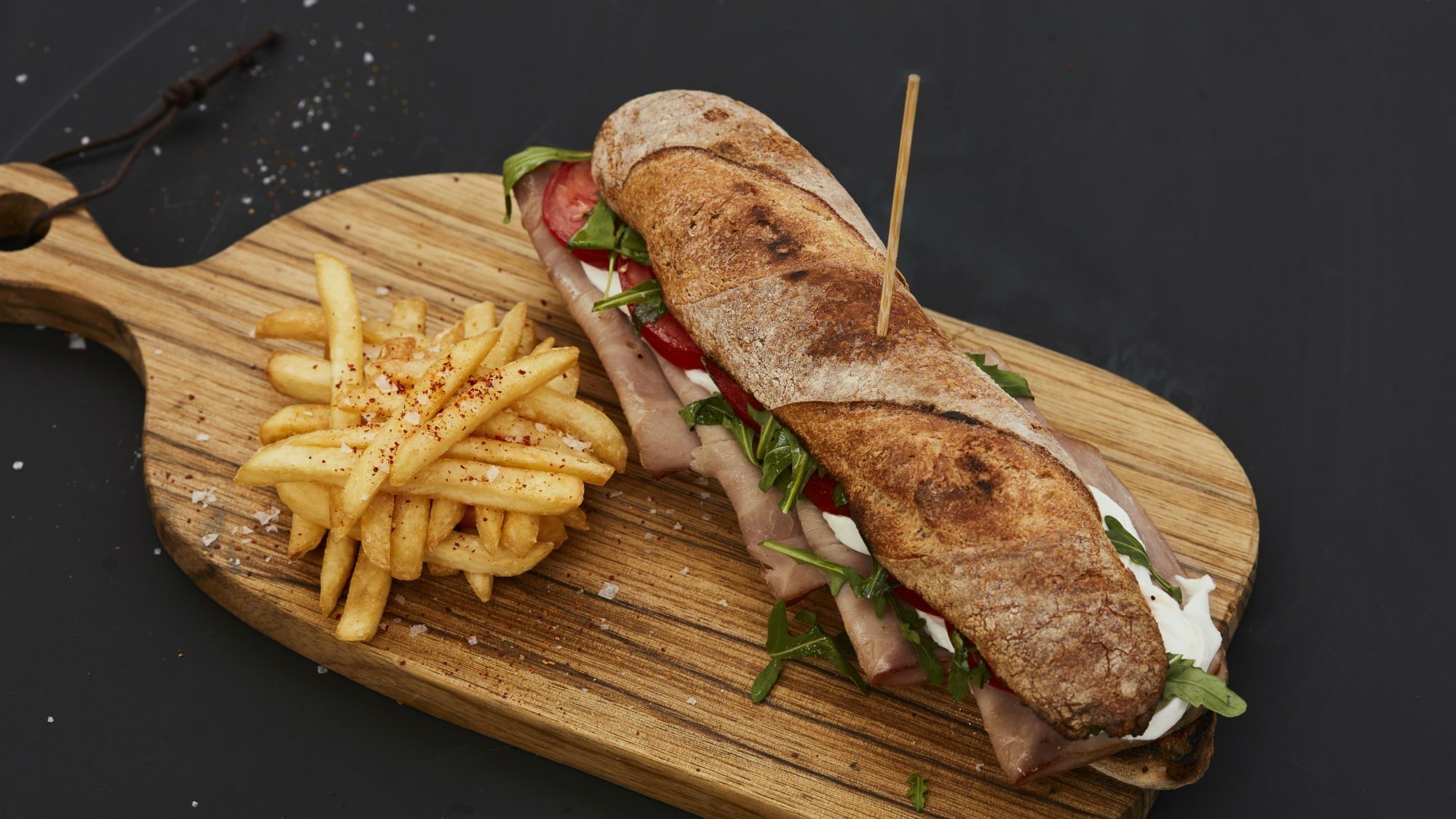 Salad
The Gatekeeper - 55
Compressed watermelon, feta cheese, walnuts, mint, black olives, cucumber ribbons and crispy Arabic bread
Quinoa Salad - 58
Flaked salmon, flax seeds and broccoli
Little Italy - 60
Mozzarella di Buffalo, heirloom tomatoes, pesto dressing and garlic toast
Main Course
Power House Wrap - 60
Breaded chicken breast, Japanese mayo, cheddar cheese and Romaine lettuce
Hangover Bagel - 60
Smoked salmon, bagel, avocado Guacamole, tomato salsa and fried egg
Baguettini - 55
Smoked turkey breast, mozzarella cheese, arugula, tomatoes and french baguette
XO Chicken Wings - 60
Celery buds and blue cheese dip
From The Grill
Chargrilled New Zealand Silver Fern Rip Eye - 75
Served with french fries and green salad
Grilled Mediterranean Sea Bream - 75
Served with french fries and green salad
Grilled Half Chicken With Chili & Spices Marinade
Served with french fries and green salad
Dessert
Homemade Crepes - 35
Nutella, candy walnuts and marinated strawberries
Belgian Waffles - 35
Vanilla ice cream, macerated berries and whipped cream
Ribs & Bits
Satisfy your cravings at our brand new BBQ & Terrace - Ribs & Bits. Thursday: from 6pm–12am Friday: 10am – 12am Saturday: 10am – 8pm
Ribs & Bits
Half Rack of Ribs - 115
BBQ marination, coleslaw and jacket potatoes
Bangers and Mash - 85
Grilled banger sausages and braised shallots
Cuban Sandwich - 80
Dijon mustard, cheese pickles and pork
Full English - 84
Two fried eggs, pork bacon, baked beans, pork sausages, grilled tomatoes, sauteed mushrooms, hash browns, toast and butter
Parma Ham & Mozzarella Sandwich with Arugula - 62
Pork Sliders - 75
Caramelized onions, pickled jalapeno peppers, pickles and shredded cheese
Hot Dog Kaiser Krainer - 76
Spicy mayo and french fries
BBQ Pork Burrito - 78
Pulled pork belly, cheese, green pepper and tomato
Pork Chili Cheese Fries - 45
French fries, smoked pulled pork, rich cheddar cheese sauce, diced red onions and BBQ sauce
Saturday - Wednesday

11AM–1:30AM

Saturday - Wednesday | Food Service

12PM-12:30AM

Thursday & Friday

11AM–3AM

Thursday & Friday | Food Service

12PM-12:30AM